Hi, my name is Penny Howe.
I am a retired school teacher now living in Chapala, Jalisco, Mexico.
I am originally from Alberta, Canada, but have had the pleasure of experiencing life in Mexico for nearly fifteen years. The weather here is fantastic!
I certainly have experienced the frustrations of trying to learn a second language. Especially, with the hindrance of no longer being a young chick with a full complement of brain cells!
But, I do know that even though the learning process may take a little longer, it is possible and so, no matter what your age, please never stop learning. Whether it is a new language, a new game, a puzzle, a new hobby, or something else, I really believe that keeping your mind active is a key ingredient to a longer and healthier life.
With that in mind, I am also an avid golfer. I am a member at the Atlas Golf course in Guadalajara, Mexico and am very lucky in that I am playing the best golf that I have ever played.
I would like to brag a bit and tell you that I have had the pleasure of meeting the top lady golfer in the world, Lorena Ochoa. Also, I volunteered at the first Lorena Ochoa Invitational Golf Tournament that was hosted at the Guadalajara Country Club. This experience gave me the opportunity to meet many of the top lady golfers in the world. It was a fabulous experience.
I love to read and am active in the local Bunco group. Our group of ladies has great fun playing Bunco, socializing, and helping out local charities.
Being retired has also opened up the doors of learning the internet and trying to help people learn using games. That must be the school teacher part coming out!
I live here in Mexico with my husband, Joe, and my precious dog, Josito.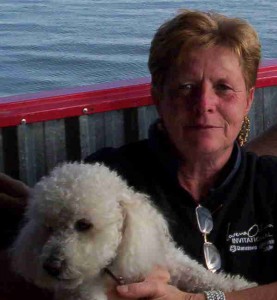 My three sisters and two brothers all still live in Canada.
Improving my Spanish is an ongoing project and I look forward to learning a new word or expression everyday.
So, as you can see, each and everyday is a new adventure.
Enjoy! Life is too short!
Thank you for visiting Synergy Spanish Review.I hope that there is a free Spanish game, or other free Synergy Spanish materials that you find useful.
Here is wishing you the best and success in whatever you are doing!